Creativity In Action will be holding an audition for the annual audition piece on January 25th, 2020 from 10:00 – 11:30 am.
This year's piece will be choreographed by Ofa Vahe.  He will be selecting at least 7 dancers from our company to create a fusion, hip hop dance that will be performed during the spring recital season.
This audition piece is an extra $75 dollars or less for each students.  It is open to ALL students regardless of level and experience.  All Company dancers are strongly encouraged to come audition and try this out.  The final fee for the piece will depend upon how many dancers are in the finished work.
If selected for the piece, all dancers must be able to be at the 4 scheduled rehearsals. They are:
Friday 1/31 & Friday 2/7 6:30 – 8:30 pm
Saturday 2/1 & Saturday 2/8 10:00 – noon
For more about Ofa…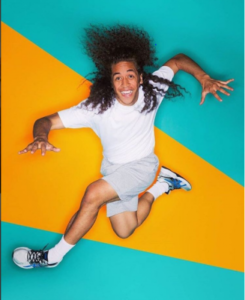 "I've been dancing since my junior year of high school. My two best friends and I started up a dance crew called the AHC (The After Hours Crew!). We had connections with the dance teacher and she would just let us stay in the studio as long as we wanted! Some nights we'd be in there from the time school got out until midnight! (Longer than the janitors haha!) After the crew got going, we decided to step out into the dance scene and see what it was all about! We were doing local workshops, small dance gigs, attended battles and other functions! I met so many amazing people and loved every minute of it. I actually met fellow Undergrounder, Tia, around this time at a small class in Bountiful and from that day on we kept in contact. She would keep me posted about big dance news/events in the area. She actually convinced me to audition for UG and I love her very dearly for doing so! I teach little kids hip hop at Dance Factory. My main style is hip hop choreo! I love hip hop that is WILD and RAW! Big, hard-hitting POWER are the things I love in a good set. I've been trained in waacking, popping, krump. I was apart of The Jazz Studios Adult Competition for 1 year. I dance because it's life! It's what I absolutely love. I can't see myself without dance in my life. It's my creative outlet! I wish to inspire. I hope people get that overwhelming feeling I get when I see others going so hard giving it their all and just plain KILLING IT! I hope to one day be a full time dancer! Make a living off of dance! Do shows, backup dance… all that good stuff! I have 10 siblings. I'm half a twin. My first name means love and my last name means chapter. My favorite animal/ spirit animal is the very awesome hippopotamus. I have double jointed fingers. Also, I have inherited my moms ability to see ghosts!"